Welcome to Marko's Autos! Mark and the team are proud to have been serving the Huddersfield area for ten years. In fact, 2018 is our tenth "birthday". To celebrate, we have increased our workshop space and added an additional ramp capable of lifting upto 5000 kg. Consequently, Marko's Autos are able to offer MOT tests and servicing for most UK and European motorhomes, in addition to cars, vans and motorbikes.
Here are Marko's we have the very lastest in technology to help us – the team – to keep your car in first class mechanical order or to help you get back on the road after a breakdown.
At our disposal, we have:
Large MOT bay – "while you wait" is often possible – please enquire when booking
Fully computerised diagnositic equipment
Wheel alignment equipment
Large stock of replacement parts. Thousands of other parts available "same day" through our trusted suppliers
Tyre removal, disposal and replacement
Years of hands on experience
Great personalities!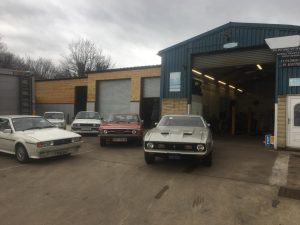 In addition to the technology, we have the hands on experience too! Our customers own a wide range of cars – many built before on board software systems and computers! We take great pride in servicing and carrying out MOT tests on older cars too – we regularly have classic cars large and small on site, ranging from Hillman Imps to classic Audis.
Motorhomes at Marko's Autos
Motorhome owners are welcome at Marko's. We are able to offer value for money servicing for motorhomes upto 5000 kg. Our newly built workshops have motorhomes in mind – we can accomodate motorhomes upto ten metres in length. Motorhome owners – have a read of this website as a Swift motorhome owner blogs his way around Europe, whilst providing money saving hints in the process!