Here at Marko's Autos, we are able to supply tyres in Huddersfield at competitive prices.  We carry a stock of the most widely-used tyres and through our trusted suppliers, we are able to source most other tyres sizes the same day. Our tyre prices include removal and disposal of your old tyre, fitting and balancing the new tyre.
This Volkswagen Transporter is being converted into a campervan by it's present owner. He wants to remove the VW standard wheels and replace them with alloys. However, in keeping with the trend setting looks of the T5, our customer is looking for a set of low profile tyres, but these must also be load bearing due to the weight of the VW. This is absolutely no problem at all for Marko's.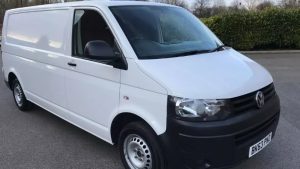 We are able to meet – and exceed –  our customer's requirements. His new van looks superb and ready for the camping season. Don't forget that we also offer servicing and MOT's for motorhomes too!
Tyres in Huddersfield – safety first
We have all had a puncture at the most inconvenient time – and maybe an inconvenient time for our pockets too! We will never repair a tyre if it is dangerous to do so. Safety is absolutely paramount when dealing with tyres. This small area of rubber is the contact point between your car and the road. If we are able to offer a safe repair – we will. If we are unable to offer a tyre repair, we will advise you of the replacement options available in terms of brand and budget.
The VW above has been fitted with load bearing tyres. As a result, the tyres are "up to the job". When shopping around for tyres, remember it's not just the wheel size that is important. We will ensure the correct tyre depth, width and load rating for your vehicle.
If your tyres are ready for replacement, call in and see us. We will help you to find the best tyres at the right price for your car, van, motorbike or motorhome.